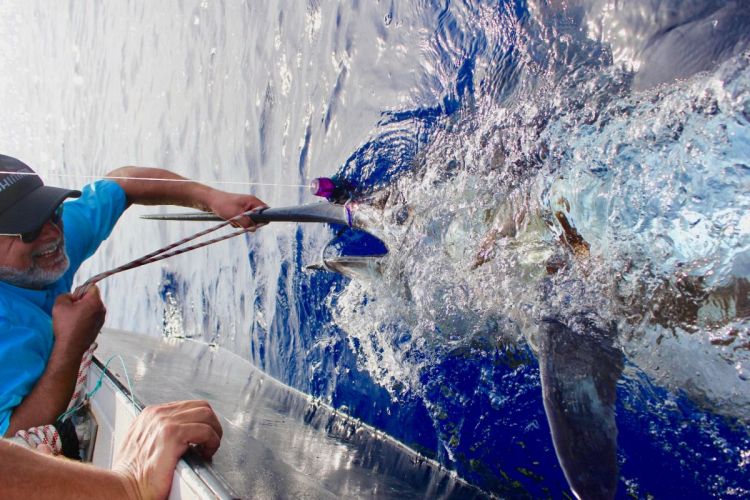 Algarve Big Game Fishing - blue marlin report - 800 lbs 360 kg for Chakib

Chakib Abbadi member of Big Game Fishing Club France caught a
huge blue marlin of 360 kg - 800 lbs off Olhao with David Modri ​​Captain at XBGF.
It is a beautiful day for the SPECIAL MARLIN BLEU deep-sea trolling with a beautiful team of sports fisherman formed by Chakib Abaddi, Abou his son and his cousin come from morocco a specialist for fishing bluefin tuna off Tangier in the Strait of Gibraltar .
The weather is nice and warm the sea is beautiful no waves and little swell. Direction the 40 nautical broad south of the Algarve towards the warm currents of the gulf stream.
6 rods 80 and 50 lbs are fishing + 3 rods 30 lbs
After an hour Boom fish'on ! 4 mahi mahi tooks the lures and puts in action..the time to get back in fishing and the cross currents a magnificent attack of white marlin will empty the reel in 30 lbs ...
30 minutes later a marlin explodes the long rigger left and banco for our team a fish of 800 lbs..Our emotion and mixed with our sadness since this fish will arrive dead to the boat the hook being stung under the bottom mouth closing its mouth and preventing it from oxygenating during the fight ..
We had a multitude of mahi mahi under the boat during the fight!
Congratulations to all for this teamwork
Photo gallery