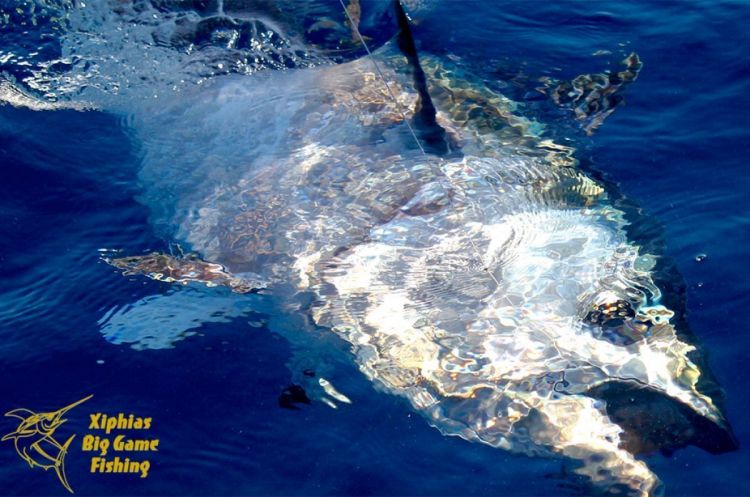 Bluefin tuna fishing Algarve - Thunnus thynnus

Practiced anchor in our region or with trolling method, it is a fishery to support, it allows to target the big tuna, see other species, including sharks and swordfish. The best season for fishing bluefin tuna in Algarve is from mid-may to the end of may and end of june to middle of july.
I suggest fishing bluefin tuna in stand-up with Black Magic belt where the fighting is powerful see superhumans so the rushes of the fish are explosive, or and the chair.
Chum fishing !
When we reach the area fishing, we start with the jet of cubes of sardines (chumming) at a rythm defined by the state of the sea and currents, success will be at the rendezvous if the tuna are present.
It can be mixed with a juice called "strouille" home made from crushed sardines, stale bread, sardine oil and a little sand.
Xiphias Big Game Fishing in the press
Bluefin tuna fishing with the broumé (chumming method) is a magical fishing and patience.
The press with the Magazine "Voyages de Pêche" makes the one and the praise in its number 117 (June-July 2016) calling it BLUEFIN TUNA FISHING: Sensations assured!
Moreover, the article is made from Martigues and speaks of our sport fishing organization "Xiphias Big Game Fishing"
It targets all fish from the Big Game Fishing, but it will require a lot of concentration and preparation.
It is a fishing technique that allows a permanent visual and olfactory trace for the fish.
Mainly used in the Mediterranean to catch bluefin tuna, it will also attract sharks, swordfish, bonito, pelamids, rays and dolphinfish.
This fishing offers unique sensations that will scream your brakes and break your kidneys.
Several large bluefin tuna are fished each year between 130 kg up to 450 kg during the season !
But on average bluefin weight 250 kg.
It is a fishing open to all, even when we have as our youngest fisherman 14 years.
The feminine gente also starts sport fishing on the high seas, so why not you!
Description of the day bluefin tuna fishing (chumming)
The day includes boat rental, rods, bait or lures, fuel and insurance.
The departure is from the marina at 7.30 am return to th marina at 4,30 pm.
At your arrival a breakfast with coffee and pastries awaits you. We will also offer the aperitif. Plan your snack.
Sun protection, cap, windbreaker according with the season.
Photo gallery