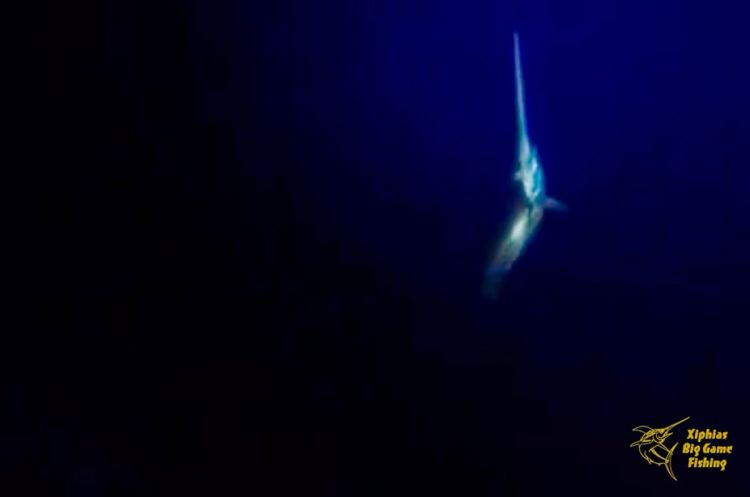 Night time Swordfishing
We looking for broadbill Swordfish as Kenyan methods. We use 3 rods, 80 lbs.
Nightttyime Swordfishing in France is one of most exciting and sport which are. I use lures with soft head which I put on of squids. I troll a maximum speed of 5 knots. When you hocked up, you must to expect a powerful fight and powerful rushes.
At night swordfish feed at the surface until 35 meters. In Mediterranean Sea they feed mostly upon pelagic fishes as sardines, and squids and other cephalopods it depends the season.
There's no guarantee to catch a night time swordfish, but your chances are pretty good when you fish with our crew.
How to catch Swordfish at night
1st method
Nighttime swordfishing Xiphias gladius is undoubtedly one of the most exciting fishing.
Although I think I most skippers and fishermen remain skeptical about the effectiveness of this technique in France it nevertheless sports !
Slow trolling for Swordfish was developed in the 90s by fishermen Kenyans and I think it will bear fruit this season even if the start was shy in 2012 !
Our assembly is modeled on them down 9 m line mono 200-300 books connected by two hooks 9/ 0 to 180 ° mounted, I use lures Softie Glow Glow Williamson are lured traces (strip ) of a squid or bonito, I do not hesitate to shove luring a starlite .
I also mounted a lamp Mardi Gras kind.
I set up 3 rods , with a downrigger to a depth of 20 meters, and the other two fish on the surface. Trolling speed is between 3 and 5 knots.
We start to fish at 3 PM h to our spot for a return around 2 AM .
We fish this year with lines 50 and 80 pounds with stand up harness black magic or fighting on the chair for the less energetic.
2nd method
The second méthod for Swordfishing is drifting as Miami, my best method!
It was easy for me to understand this technic because it is close to the French bluefin tuna fishing in Mediterranean Sea.
Come and joins us to discover how i fish a Swordfish at night.
For anglers looking for thrills, no need to go to other places , France is the destination to be discovered in Europ !